Good afternoon Ram families, this is Greg Walker, superintendent of Paoli Schools with my weekly update. . We were informed late last Friday of a positive student. Contact tracing identified several students and a staff member who are now self-quarantining. This week has been good, there have been no students or staff members who have tested positive. Our students and staff continue to do a great job of following our procedures. I wish to encourage each of you to continue to practice social distancing, wear your mask when that isn't possible, and wash those hands. Have a great weekend and Go Rams.

The ISDH has sent out another update to the school exclusion criteria for COVID-19. At this time, siblings and households members of individuals with COVID-19 symptoms do not automatically get excluded unless there is a significant concern for COVID-19. This is a nursing judgment call based on the reported and observed symptoms, responses to questions regarding contacts and travel, and other known information.

Weekly COVID-19 update for Friday, September 11, 2020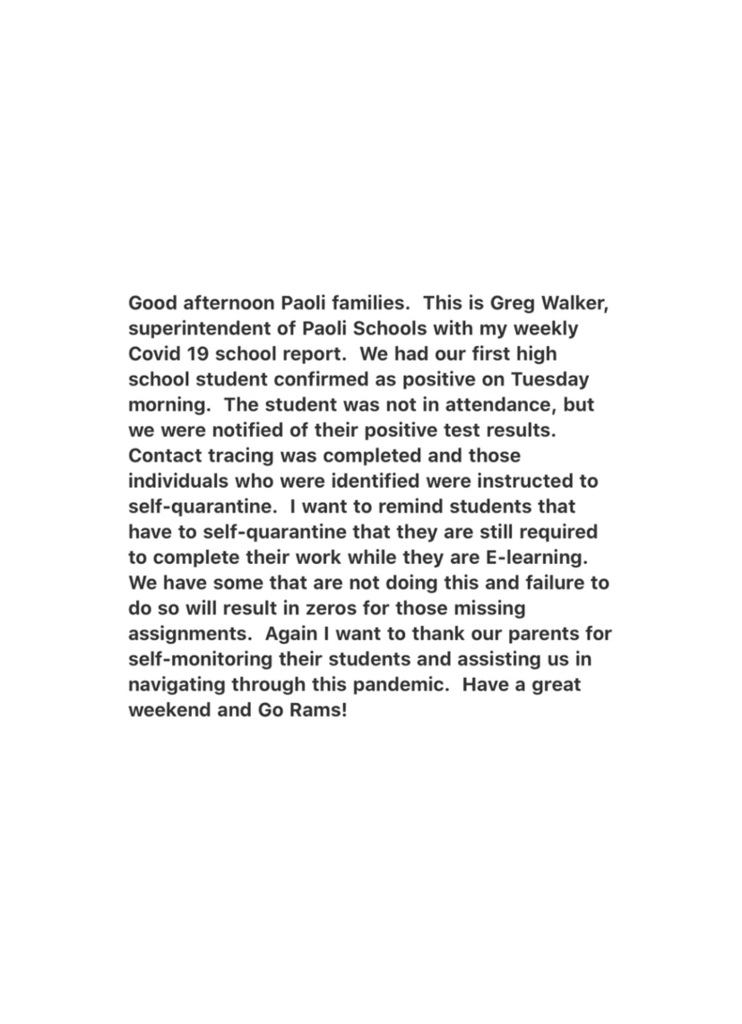 Weekly COVID-19 update from Superintendent Greg Walker.

Parents -- please make sure you're regularly updating your contact information in Harmony so that we have the most up-to-date information when contacting you!

Class of 2021, make sure that you have accepted he invitation to the new Google Classroom group dedicated to keeping you informed about senior year events. If you do not have an invitation, please contact Mary Lechner,
lechnerm@paoli.k12.in.us
.
Our school will be using Harmony Family Access to complete all student registrations for students in grades 7-12 for the upcoming school year. Please use the appropriate link below to register your student(s). All returning students must register through Harmony for the fall semester. Click HERE to register your returning student online. Click HERE to register a new student.